---
NISSAN QASHQAI
The new Nissan Qashqai has won the Auto Express Car of the Past 30 years Award. Launching in 2008, the Nissan Qashqai created the brand new segment of Crossover, offering the practicalities of an SUV but with the running costs of a hatchback.
Auto Express, celebrating its 30th anniversary, recognised the Qashqai as the car which has had the greatest impact on the automotive market in this period, and now with over 3 million Nissan Qashqais having being produced, it remains the most successful model in Europe in Nissan's history.
Did you know that Nissan were the manufacturer who kicked off the whole SUV trend in Europe? Well they did, and they continue to innovate in order to bring us an even better version of the incredibly popular Nissan Qashqai. Let's take a closer look. The all new Nissan Qashqai is stunning, sleek, sophisticated and super intelligent. It effortlessly manages to combine the practicality of a sporty family car together with the demands of every day life. It's rugged yet refined. Fuel economy is impressive and the tech is bang up to date.
For a start, the Qashqai is built with the needs of consumers in mind. It's spacious and comfortable for occupants and has plenty of room for a family and all the bits and pieces that go along with that. The boot space is reasonably sized at 430-litres, expanding to 1,585-litres when those rear seats are not being used for human transport. Besides the interior, the comfort extends in the form of a good ride and quiet engines too.
The new 2018 Nissan Qashqai joins a long line of successful crossover vehicles from Nissan, and now celebrates its eleventh year. The Qashqai is named after the Turkic mountain people of Northern Iran, evoking mental images of access to inhospitable areas, and it doesn't fail to live the promise. Available in a range of engine sizes and transmissions, the current Qashqai comes in four main variants - the Visia, the Acenta, the N-Connecta, and the top of the range Tekna - each with their own series of specifications.
The engines used to power the Qashqai are very wallet friendly, especially the excellent 1.5-litre turbo diesel that Nissan claims can manage over 70mpg. If diesel isn't your preferred choice, Nissan's 1.3-litre turbo petrol is still meant to be capable of over 50mpg, so efficiency levels are very impressive.
The Qashqai is a market leading mid-size family SUV and two-time winner of the highly prestigious WhatCar? Car of the Year Award. If you're looking to lease a car that's practical, stylish and offers a host of standard equipment and handy features – a Nissan Qashqai leasing is the answer for you.
Nissan Qashqai combines stunning looks, efficient aerodynamics, and advanced technology to help you enjoy enlightened driving at its best. And thanks to Nissan Intelligent Mobility, you'll feel more confident and connected than ever.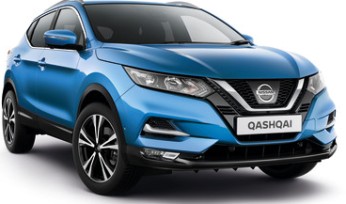 More and More People Are Switching to Nissan Qashqai Car Leasing Deals and Cheap Nissan Qashqai Business Contract Hire Offers.
Leasing a Nissan Qashqai for under £200 per month, available on great lease deals for Private and Company customers.
So forget searching for quotes all day, we'll do all the hard work for you and find you the best and cheapest Nissan Qashqai leasing rates.
Smart Lease has a team of sales advisers who are highly skilled when it comes to Nissan Qashqai personal leasing and have a great pool of knowledge at their fingertips. If you have any queries, please don't hesitate to get in touch.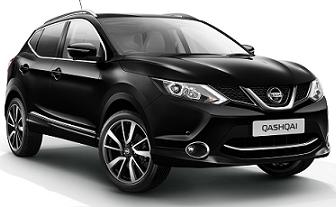 THE NEW NISSAN QASHQAI
Intelligence is beautiful; and the smart, sophisticated redesign of the ultimate urban crossover proves it. The New Nissan Qashqai N Connecta and Tekna combines stunning looks with efficient aerodynamics, allowing you to enjoy city driving at its best.
NISSAN QASHQAI ADVANCED TECHNOLOGY
Make your smartphone your New Nissan Qashqai's best friend: access your music on the move and your Facebook newsfeed, tweets and TripAdvisor tips while stationary in a newly redesigned and intuitive interface.
The arrival of the 2017 Qashqai updated model, along a new Tekna+ grade, will undoubtedly ensure that the award-winning Nissan Qashqai will maintain its position at the top of the tree.
Improved suspension and steering
Equipped with the latest Nissan Intelligent Ability safety features, including rear cross traffic alert.
Nissan ProPILOT autonomous drive capability
Upgraded and improved ABS
A full 5 stars from Euro NCAP with good scores on both adult and child occupancy safety means that the Nissan Qashqai is a safe bet, especially with the new 2017 version.
Having a Nissan Qashqai car leasing deal could not be simpler. We offer all derivatives of the car and have pipeline stock coming through every month for the most popular trim levels. If you cant see what you are looking for get in touch on 01604 497572 or complete a quote request with any additional information you require. We do also offer Nissan Maintenance plans to take care of your servicing needs ot give you as close to all inclusive pricing as possible. In all cases our Nissan Qashqai Car Lease contracts are based on New cars, delivered to your door (UK Mainland only), with 3 year warranty, 3 years road side assistance and road tax throughout the Nissan Qashqai contract hire.

Nissan Qashqai personal car leasing is a great way to get a brand new Qashqai for a little initial outlay and a fixed monthly cost over a fixed term. At the end of the lease term you simply hand your car back to the finance company. With a Nissan Qashqai personal lease you can forget about any worries of depreciation or the hassel of selling the car when you no longer want it. Just decide how long you want the contract to run, what your annual mileage will be and how much initial payment you would like to put down.
---
In all cases Smart Lease are acting as a credit broker and not a lender.
Smart Lease is authorised and regulated by the financial conduct authority.
Consumer Credit Interim Permission is 648780.
All of our Nissan Qashqai car leasing contracts are based on finance contracts and as such come with a few points to note. Firstly failure to keep up to date with payments may result in a charge from the finance provider. Secondly, cancellations may result in a fee being incurred. Thirdly, Initial Payments are typically taken just after you take delivery of the car (not is all cases) and is part of the finance rental (not refundable)
Nissan Qashqai and all vehicle leasing pricing is correct as of time of publication. We reserve the right to withdraw any offer, service or price without notice. Errors and omissions excepted.