Citroen Car Lease Deals


It's fair to say some of our deals are breath-taking, Citroen leasing from just £103.97 per month! Don't miss out on some of our best ever deals on our Citroens by taking a look below including the CITROEN C3 Flair, & More!
It is with thanks to our relationships which we have been built up over the last 2 decades between ourselves and the car manufacturers themselves, which allow us to bring you such genuine and exciting offers on Citroen lease deals.
Citroen is a brand which prides itself and its products as being a result of its unique and eye catching creativity. With many different models to choose from it's easy to see why Citroen leasing is such a popular choice amongst our customers.

Citroen offer a range of cars from mini sporty looking vehicles to family cars to even MPV's. Citroen have a number of models on offer from the C-Zero to the C-3 not to mention their saloons and other purpose built vehicles. It's clear Citroen have many more creative ideas in the pipeline as they continue to bring satisfaction to each and every one of their customers.
The New Citroen C3 Lease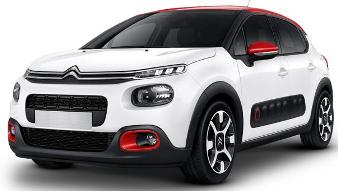 After a new 5 Door hatchback? If yes, the new Citroen C3 is certainly worth a look. It's pretty pleasing on the eye, and with standard features that include a multi-function trip computer, body coloured bumpers, MP3 connectivity, and ABS – you're given it all by this car. Call us today to arrange your Citroen C3 contract hire or personal car leasing option.
The new Citroen C3 has been a longstanding member of Citroen's wide variety of vehicles, acting as their flagship hatchback model. Citroen C3 Lease is a fantastic choice for anyone who requires a hatchback that offers plenty of practicality and storage, but also delivers plenty of additional fun, unique features which help it stand out from its competitors.
Essentially, this Citroen C3 offers those who are looking for a supermini with style and nice levels of handling but which also has lots of comfort and equipment, then the C3 makes for a sound choice.

Get Brand New Citroen Lease Deals. All Citroen Leasing Offers Include Delivery, Road Tax and an Official Manufacturer's Warranty!