CITROEN C3 1.2 PURETECH 82 FLAIR PLUS 5 DOOR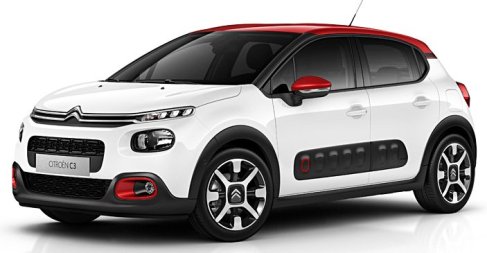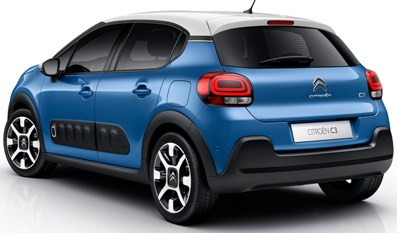 Please see below lease prices for the new Citroen C3 Flair Plus personal car leasing deals and business contract hire offers. All of our special offers have great discounted prices and many of the cars are in UK stock . Use our Request A Quote buttons to receive a free Citroen C3 lease quote.
The new Citroen C3 car leasing is a great way to get a brand new Citroen C3 for a small initial outlay and a fixed monthly cost over a fixed term. At the end of the lease term you simply hand your car back to the finance company and start again on a new deal.
---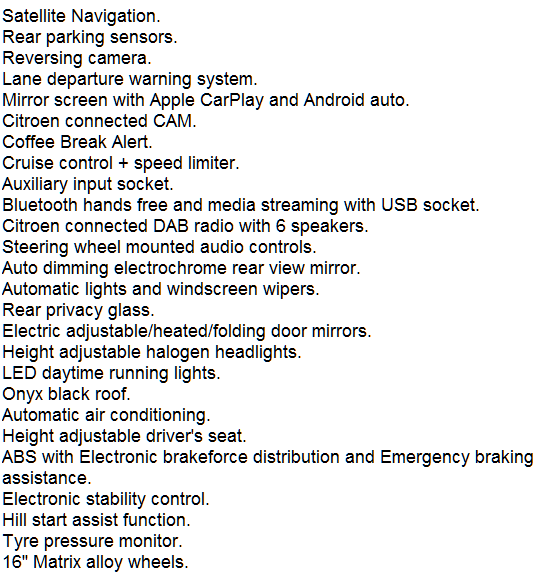 ---
36 MONTHS
---
36 MONTHS
---
36 MONTHS
---
36 MONTHS
---
48 MONTHS
---
48 MONTHS
---
48 MONTHS
---
48 MONTHS
---
FILM YOUR CITROEN C3 DRIVING EXPERIENCE
The ConnectedCAM Citroën™ on the New Citroen C3 Flair Plus you can film spectacular scenery, unusual locations and cityscape. This new system uses a camera fitted behind the rear-view mirror to film what the driver sees through the car windscreen. It provides a video log of your everyday driving experiences: - Just click to take a photo and share it on social media. The camera films and stores what's happening in front of you, so it could also provide valuable information in the event of an accident.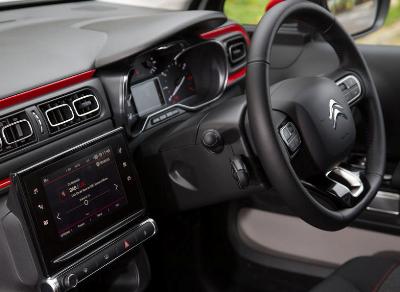 Mirror Link
Select the radio of your choice by genre, country or language. (Free app). Mirror Screen allows you to enjoy your smartphone functionalities on the Touch Screen of your Citroën. Mirror Screen works withApple CarPlay™ and MirrorLink® to display and use compatible apps and Sat Nav from your smartphone on the Touch Screen.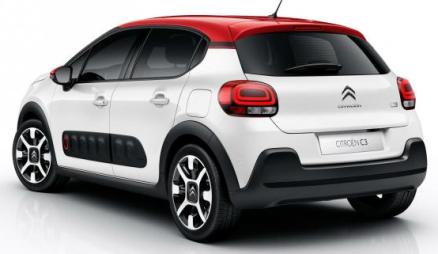 ---
*Citroen C3 Flair Plus Car Leasing Offers Terms:
Citroen C3 Flair Plus leasing prices based on business contract hire or Citroen C3 personal car leasing deals over 48 / 36 Months.
*Prices are based on 8,000 Miles pa.
*Other lease terms and miles available upon request.

*PLEASE CLICK BELOW FOR A FREE CAR LEASING QUOTE ON THE CITROEN C3 FLAIR PLUS.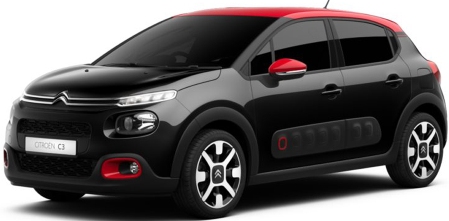 ---
The Citroen C3 Flair Plus
The Citroen C3 has been a longstanding member of Citroen's wide variety of vehicles, acting as their flagship hatchback model. Citroen C3 Lease is a fantastic choice for anyone who requires a hatchback that offers plenty of practicality and storage, but also delivers plenty of additional fun, amazing specification and unique features which help it stand out from its competitors.
Style is the name of the game for the Citroen C3: a small car with supprising space. With its two-tone roof and body combination, you get to choose from 36 colour combinations. While the Airbump side inserts—which come as standard on Flair trim levels and above—not only look unique: they'll also protect the paintwork from small bumps, dents, and scuffs.
The thermoplastic polyurethane material used in the Airbump® panels resists everyday degradation, protecting them from sunlight, water, scratches etc.
The latest C3 has a wide range of customisation options and features new technologies including the firm's ConnectedCam which enables the car's occupants to share videos and road trip photos on social media with the on-board HD camera. The camera films and stores what's happening in front of you, so it could also provide valuable information in the event of an accident.
The storage compartments have been designed in the most functional way possible. It has a clever central storage compartment which frees up as much space as possible in the front and large storage compartments on the front doors.
Essentially, this Citroen C3 offers those who are looking for a supermini with style and nice levels of handling but which also has lots of comfort and equipment, then the C3 makes for a sound choice.
It couldn't be easier to organise your Citroen C3 lease through Smart Lease. We help you find the best Citroen C3 leasing offers by comparing deals from local and national leasing companies. You can then adjust your Citroen C3 Flair lease contract length, initial payment and annual mileage to suit your needs.
Smart Lease helps you find the best Citroen C3 lease deals from from approved suppliers. You can compare C3 leasing deals and then tailor the deal to suit you best, by altering the length of lease, the amount of initial payment and your annual mileage. And all our lease cars come with free delivery.
---
When You Lease a Citroen C3 it Includes Road Tax and an Official Manufacturer's Warranty!
All cars leased through us come with free UK delivery and phone support throughout the duration of the lease.
---

---
In all cases Smart Lease are acting as a credit broker and not a lender.
Consumer Credit Interim Permission is 648780.
All of our Citroen C3 Flair car leasing deals contracts are based on finance contracts and as such come with a few points to note. Firstly failure to keep up to date with payments may result in a charge from the finance provider. Secondly, cancellations may result in a fee being incurred. Thirdly, Initial Payments are typically taken just after you take delivery of the car (not is all cases) and is part of the finance rental (not refundable)