VAUXHALL INSIGNIA 2.0 CDTi 160 EXCLUSIV NAV
SPORT TOURER ESTATE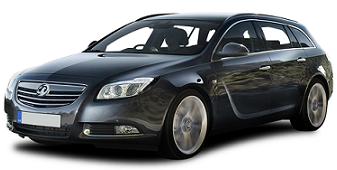 ---
48 MONTH LEASE
BUSINESS = £234.99

PERSONAL = £286.18

---
36 MONTHS
BUSINESS = £259.99

PERSONAL = £317.68


---
*Includes: Road Tax For The 48 / 36 Months

---
VAUXHALL INSIGNIA SPORTS TOURER
Featuring the same bold identity and stimulating driving experience, and infused with breath-taking innovation and forward-thinking technology, the sleek Insignia Sports Tourer perfectly complements its dynamic hatchback and saloon counterparts.
---
All Vauxhall Insignia 2.0 CDTi Exclusiv NAV Tourer car offers are based on Car Leasing, 10k miles per annum with stated number of rentals in advance followed by 47 (4yr ) & 35 rentals (3yr) as appropriate. Business rentals exclude VAT / Personal leasing offer rentals include VAT. All Images are for illustration purposes only.Other terms and miles available upon request.
As standard leasing offer, the Vauxhall Insignia Tourer prices advertised includes delivery to your front door of a brand new vehicle which comes with a 3 Year Warranty. The price includes road fund licence ( road tax ) throughout the contract hire term and the car is collected at contract end. We can add additional maintenance packages to the leasing contract to include servicing and replacement tyre costs to the contract if required.
Other car terms and miles also available.
For more information on the Vauxhall Insignia Tourer cheap leasing special offer please call us on the below number.

---