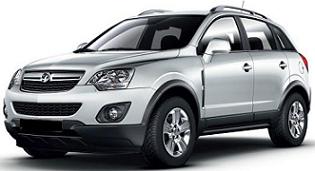 All Vauxhall Antara SE NAV 4x4 car offers are on Car Leasing, 10,000 Miles pa, With 3 or 6 months down followed by 35 or 47 Monthly payments. Business contract hire exclude VAT / Personal leasing offers include VAT.
As standard leasing offer, the Vauxhall Antara SE NAV 4x4 pricing advertised includes free delivery of a brand new vehicle which comes with a 4 Year Warranty. The price includes car tax throughout the contract and the car is collected at contract end. We can add additional maintenance packages to the leasing offers to include servicing and replacement tyre costs if you require.
Antara SE NAV Delivery: Usually 12-16 days from order if the car in UK stock. For all Vauxhall Antara SE NAV 4x4 factory orders delivery depends on car manufacturers current lead times for your chosen specification and vehicle colour.
For a FREE lease quote on the new Vauxhall Antara please click below.