Smart Lease have some of the finest deals available on the new Nissan Qashqai
THE NEW NISSAN QASHQAI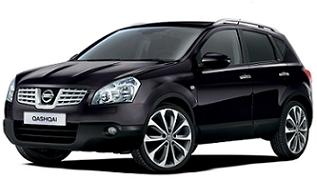 PERSONAL OFFER
---
Nissan Qashqai Visia 1.6i £215.00
Nissan Qashqai Visia 1.5dci £255.00
Nissan Qashqai Acenta 1.6i £234.99
Nissan Qashqai Acenta 1.5dci £269.99
Nissan Qashqai N Tec 1.6i £239.99
Nissan Qashqai N Tec 1.5dci £279.99
---
CAR SPECIFICATIONS
The Nissan Qashqai is considered to be the first crossover car – a car with the versatility and rasied ride-height of an SUV, but with the low running costs.
On top of its excellent safety features, the Nissan Qashqai is well specced, eye-catching and fantastic value for money.
---

---
Special Lease Car Offer Prices: Nissan Qashqai model prices are based on contract hire deals or private leasing car over 48 / 36 Months.
Car Deals Based On 10,000 Miles pa - Other miles available.