More and More People Are Switching to Nissan Qashqai Personal Car Leasing Deals and Cheap Nissan Qashqai Business Contract Hire Offers.
So forget searching for quotes all day, we'll do all the hard work for you and find you the best and cheapest Nissan Qashqai car lease specials !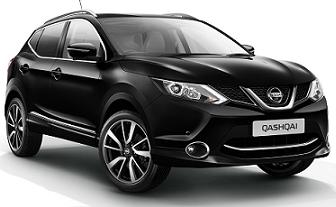 The new Nissan Qashqai has won the Auto Express Car of the Past 30 years Award. Launching in 2008, the Nissan Qashqai created the brand new segment of Crossover, offering the practicalities of an SUV but with the running costs of a hatchback.
Auto Express, celebrating its 30th anniversary, recognised the Qashqai as the car which has had the greatest impact on the automotive market in this period, and now with over 3 million Nissan Qashqais having being produced, it remains the most successful model in Europe in Nissan's history.
A Nissan Qashqai personal lease deal is a great way to get a brand new Nissan Qashqai for a little initial outlay and a fixed monthly cost over a fixed term. At the end of the lease term you simply hand your Nissan Qashqai back to the finance company. With a Nissan Qashqai Automatic personal lease you can forget about any worries of depreciation or the hassel of selling the car when you no longer want it. Just decide how long you want the lease to run, what your annual mileage will be and how much initial payment you would like to put down.
Leasing a new Nissan Qashqai could not be simpler. We offer all derivatives of the car and have pipeline stock coming through every month for the most popular trim levels. If you cant see what you are looking for get in touch on 01604 497572 or complete a quote request with any additional information you require. We do also offer Maintenance lease plans to take care of your servicing needs ot give you as close to all inclusive pricing as possible. In all cases our Nissan Qashqai Lease contracts are based on New cars, delivered to your door (UK Mainland only), with 3 year warranty, 3 years road side assistance and road tax throughout the Nissan contract.
All Nissan Qashqai cars leased through Smart Lease come with an official manufacturer's warranty, free delivery and phone support throughout the duration of the car lease contract.

We have a wide variety of Nissan Qashqai Leasing special offers available and can quote on a different derivative if you cannot see what you are looking for.
---
In all cases Smart Lease are acting as a credit broker and not a lender.
Smart Lease is authorised and regulated by the financial conduct authority.
Consumer Credit Interim Permission is 648780.
All of our Nissan Qashqai car leasing contracts are based on finance contracts and as such come with a few points to note. Firstly failure to keep up to date with payments may result in a charge from the finance provider. Secondly, cancellations may result in a fee being incurred. Thirdly, Initial Payments are typically taken just after you take delivery of the car (not is all cases) and is part of the finance rental (not refundable)
Nissan Qashqai and all vehicle leasing pricing is correct as of time of publication. We reserve the right to withdraw any offer, service or price without notice. Errors and omissions excepted.