CITROEN C1 1.0i PLATINUM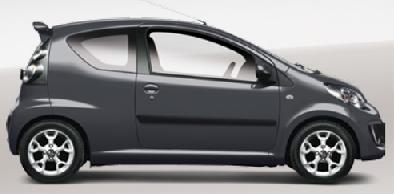 ---
The new C1 is easily spacious enough for four adults and includes a wide selection of storage compartments.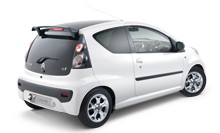 ---
*24 MONTHS LEASE
---
OPTION 1.

£999.99


£77.25


£92.70


---
OPTION 2.

£499.99


£100.92


£121.10


---
OPTION 3.

£199.99


£115.12

PERSONAL = £138.14


---
*36 MONTH LEASE
---
OPTION 1.

£999.99


£85.35


£102.42


---
OPTION 2.

£499.99


£101.57


£121.88


---
OPTION 3.

£199.99


£111.30


£133.56


---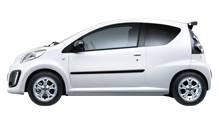 The compact CITROËN C1 is a perfect car for the city - it's nippy and safe. But don't confine it to the busy streets - it'll surprise you well beyond the city limits.

The 5-speed manual transmission gives you perfect control in traffic and tight parking spaces, yet makes for pleasurable economic on motorways or country lanes. It may be only 3.43 metres long, but the CITROËN C1 wheelbase is longer than many much larger cars, so it will respond and handle very well in any conditions.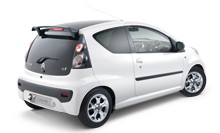 Large windscreens give you great all-round visibility to nip safely through small gaps or simply enjoy the scenery. Carefully placed dashboard controls are all close at hand, make your CITROËN C1 a safe, comfortable and liberating experience.
MPG: 68 mpg
Car CO2 emission: 106
Insurance Group: 1 ( Lowest Group )
---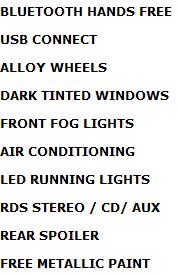 ---
Special Offers Terms: Citroen C1 Platinum prices are on business contract hire or Citroen C1 personal car leasing over 24 or 36.
Prices are based on 5,000 Miles pa

No Admin Fees

Free Delivery
*For more information or alternative prices on the Citroen C1 Platinumr cheap car leasing offers please call us on the below number.

As leasing offers, the pricing advertised includes delivery of your vehicle which comes with a 3 Year Warranty. The price includes car tax and AA cover throughout the contract and the car is collected at contract end free of charge. We can add additional maintenance packages to the contract to include servicing and replacement tyre costs to the contract if required.