CITROEN C1 1.0i EDITION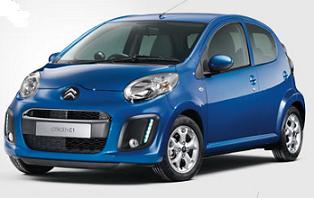 The Citroen C1 is capable of in a combined fuel economy of 65.70 mpg, giving it a range of 505 miles on a full 35.00 litres of Petrol.
The CO2 emissions are 99 g/km, putting it in enviromental band A.
---
*24 MONTH OFFER
---
OPTION 1.

£999.99


£69.94


£83.92


---
OPTION 2.

£499.99


£89.99


£107.98


---
OPTION 3.

£199.99


£104.81


£125.77


---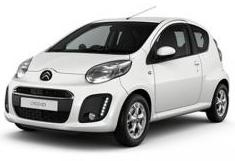 Easy to handle and very much at ease in the city, the C1 offers much more space than you would ever have expected.
In terms of safety, the C1 is a front runner in its segment with ABS, ESP and up to 6 airbags available.
The C1 has the best turning circle in its class.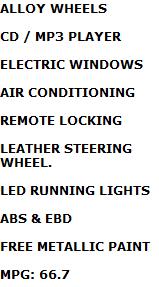 *ALLOY WHEELS NOW STANDARD !
---
MPG: 65.7 mpg
CO2 emission: 99
Insurance Group: 1 ( Lowest Group )
Edition models have the same low running costs as the rest of the petrol models, but a more sporty look.
Special Offers Terms: Citroen C1 Edition prices are on contract hire or personal car leasing deals over 24 Months.
Prices are based on 5,000 Miles pa
*Other miles available upon request.

No Admin Fees

Free Delivery
*For more information or alternative prices on the Citroen C1 Edition low cost car lease offers please call us on the below number.