VAUXHALL ASTRA GTC 1.4 TURBO 140 SPORT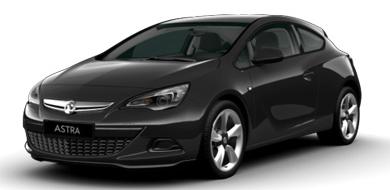 ---
48 MONTHS ( 3+47 )

£177.99


£217.78

---
36 MONTHS ( 3+35 )

£192.99


£237.28

---
24 MONTHS ( 3+23 )

£214.99


£266.68


---
*Vauxhall Astra GTC 1.4 Turbo Specification:
Highlights include: the stunning car , coupé-like profile and distinctive, blade-inspired lines; definitive eagle-eye headlights with optional bi-xenon Adaptive Forward Lighting; a custom-built chassis with HiPerStrut and FlexRide functionality; striking 18-inch alloys and loads more. And that's just the start.

---
Special Offer Terms: Vauxhall Astra GTC 1.4 Turbo Coupe based on business contract hire or personal car leasing over 36 / 48 Months
Deals based on 10,000 Miles pa - Other miles available.

We have many years experience in the car leasing business that has enabled us to build up powerful relationships with all the important manufacturers and major contract hire companies. This has allowed us to negotiate the very best discounts and competitive finance offers and rates.

Don't see what you want? Call us now on 01604 497572 for our cheapest car leasing deals on any make or model of vehicle.