MAZDA MX5 1.8 SE CONVERTIBLE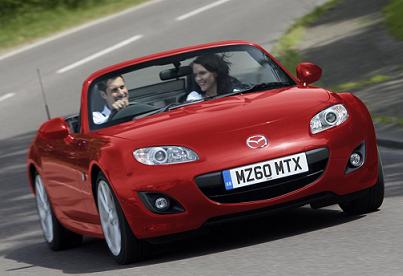 36 MONTH OFFERS
BUSINESS = £199.99

PERSONAL = £239.98


---
Mazda MX5 Convertible
The Mazda MX-5 is the world's best-selling two-seater Convertible car with good reason. This multi-award winning Mazda MX-5 delivers the true roadster elements — outstanding agility and driving dynamics, optimal power-to-weight ratio and thrilling rear-wheel drive. And of course a Soft-top roof that takes up no space in the boot and in seconds can go from a stunning roadster to a sleek and stylish convertible.
We are delighted to announce that the Mazda MX-5 has been awarded 'Most Popular Roadster' at the Honest John Awards 2013.
Typifying our unconventional approach this car is inspired by the Japanese notion of Jinba Ittai – 'horse and rider as one'. And it's this special bond between car and driver that makes the Mazda MX-5 feel so responsive, sprightly and fun to drive.

TEL: 01604 497572
---
Mazda MX5 SE Convertible 1.8i car offers are based on Car Leasing, 10,000 miles pa, 3 in advanced followed by 35. Business contract hire offers are + VAT / Personal car leasing deals include VAT.
What You See Is What You Get - there are no hidden fees or charges
We're constantly reviewing and updating our special offers prices to ensure you get the best and cheapest deals available.
We have special leasing deals that you won't find anywhere else.
Contract Hire, private and company allows you to change your car every few years, retain the benefits and convenience of ownership